European stocks gained on Thursday, nearly erasing losses since Russia's invasion of Ukraine as investors weighed geopolitical concerns against an optimistic tone by the Federal Reserve.
The Stoxx Europe 600 Index closed up 0.5% after earlier dropping as the Kremlin denied major progress in peace negotiations. Energy and construction sectors outperformed, while automakers and retailers dropped. The U.K.'s FTSE 100 jumped 1.3%, becoming the first major European index to recoup all of its losses this year.
The European benchmark has bounced this week — and is on course for its best week since November 2020 — as earlier optimism over the negotiations outweighed concerns around surging inflation and slowing growth. The Stoxx 600 is less than 1% away from erasing its losses since the beginning of the war on Feb. 24, though investors remain wary about the damage from Russian sanctions and surging commodity prices.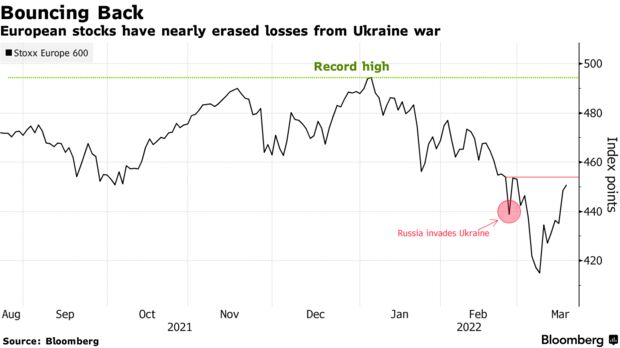 Stalled Value Rally Set to Get Boost From Fed: Taking Stock
"The market is still very fragile and things can change on a dime," said Peter Garnry, head of equity strategy at Saxo Bank A/S. "If the turmoil and high commodity prices remain, it's a pretty big obstacle to fighting inflation and a very difficult environment for companies to operate in. I'm still not cheering too much yet."
The Fed on Wednesday hiked interest rates by a quarter point, as expected, and investor sentiment was boosted by signals from Chair Jerome Powell that the U.S. economy was "very strong" and could handle monetary tightening. The Bank of England followed today with its third consecutive rate hike, taking borrowing costs back to their pre-Covid level.
Still, traders have been concerned that the economy could buckle under the weight of monetary-policy normalization.
Investors are also bracing for weaker earnings at European firms amid higher commodity prices and forecasts for a slowdown in economic growth. Citigroup Inc. strategists now expect European profits to rise 3% in 2022 compared with their earlier forecast of 5%, with cyclical and consumer-linked sectors seen as the most vulnerable.
Credit Suisse Turns Overweight on Stocks, Favors U.S. and China
Among individual movers, Ocado Group Plc slumped after its online grocery joint venture with Marks & Spencer Group Plc warned revenue growth this year might be lower than previously expected. Thyssenkrupp AG tumbled after saying a planned separation of its steel operations had been thrown into uncertainty by the war in Ukraine.
MARKETS
Equities: Euro Stoxx 50 down 0.1%, FTSE 100 up 1.3%, DAX down 0.4%, CAC 40 up 0.4%, FTSE MIB down 0.7%, IBEX 35 up 0.4%, AEX-Index up 0.6%, Swiss Market Index up 1.4%
Bonds: German 10-year-yield unchanged at 0.39%, Italian 10-year-yield up 1bps at 1.91%, Spanish 10-year-yield unchanged at 1.33%
Credit: iTraxx Main down 3.4bps at 70.0, iTraxx Crossover down 12.9bps at 334.0
FX: Euro spot up 0.71% at 1.1113, Dollar index down 0.75% at 97.88
Commodities: Brent crude up 8.3% at $106.2/bbl, copper up 2.0% at $10,251/MT, iron ore up 1.1% at $150.35/MT, gold up 0.8% at $1,942.19/oz
EUROPE EQUITIES
14 out of 20 Stoxx 600 sectors rise; autos sector has the biggest volume at 137% of its 30-day average; 384 Stoxx 600 members gain, 207 decline
Top Stoxx 600 outperformers include: Verbund +8.8%, DiaSorin +7.8%, LPP +7.6%, K+S +6.7%, Deliveroo +6.3%
Top Stoxx 600 underperformers include: thyssenkrupp -9.4%, Ocado Group -8.2%, Wizz Air Holdings -7.1%, Faurecia -5.7%, Renault -5.5%
For a daily wrap highlighting the biggest movers among EMEA stocks, click here
You want more news on this market? Click here for a curated First Word channel of actionable news from Bloomberg and select sources. It can be customized to your preferences by clicking into Actions on the toolbar or hitting the HELP key for assistance.