Good Morning Traders
Good morning! We have a BIG day in the markets as the Federal Reserve is set to raise the interest rates again. Markets are pricing in a 75 point hike however there is a very small chance there could possibly be a 100 point hike. I would not bet on this but we should always be prepared for the unexpected.
The rate hike itself will move the markets but what we are going to be watching for the most is the speech from Jerome Powell at 2:30. He is expected to talk about the state of the economy and touch on the still rising inflation numbers. It is going to be very interesting what he has to say as he is stuck in the proverbial rock and a hard place.
If he starts to raise rates too high too quickly, then he risks crashing the economy/ markets, but on the other side if he does not tame inflation then we are stuck with rising prices and high unemployment which causes many lower and middle class families to barely be able to afford necessities such as groceries, rent, gas etc.
We will be cautious heading into this event as we expect volatile moves. This could be the catalyst for the markets to either rise back above previous support levels, or it could drop the markets to lows not seen since last year.
The last time couple of times we got an interest rate hike the markets had a bounce so we could potentially see this with Powell's speech but we will have to wait and see. 
With other central banks across the world aggressively raising their rates as well, we can only wonder how long the global economy can hang on before there is a potential declaration of a global economic slowdown/ recession. 
As always practice proper risk management and Good Luck! 
Top Upgrades, Downgrades, Initiations, Pre-Market Movers, Unusual Options Activity, and Economic News
Pre-Market Movers
Upgrades
Downgrades
Initiations
Unusual Options Activity
Economic news
Five Things You Need to Know to Start Your Day
1. Fed time
Fed officials meet today and are expected to hike rates for the fifth consecutive time. Traders are nervous ahead of the announcement, with Stephen Miller, an investment consultant at GFSM, advising investors to "close shorts on equities and bonds". Hedge funds don't seem to have heeded this advice though, ramping up their shorts across the front-end of the Treasury curve, according to the Commitments of Traders report. Currency traders are also girding themselves for the decision, with the dollar's rally at risk if the Fed disappoints on the Dot Plot.
2. Russia escalates
Russian President Vladimir Putin escalated the conflict in Ukraine further in a televised nation address on Wednesday, declaring a "partial mobilization" of 300,000 reservists and vowing to use all means necessary to defend the "territorial integrity of Russia." "Those who are trying to blackmail us with nuclear weapons should know that the wind patterns can also turn in their direction," Putin said, in comments that sparked a rush to haven assets.
3. Historic bailout
Germany will nationalize the country's largest gas importer in an attempt to avert a collapse of the energy sector in Europe's biggest economy. Uniper is at the epicenter of the energy crisis in Germany. Its massive gas contracts with Russia exposed the company to the Kremlin's moves to slash supplies in retaliation for sanctions stemming from its invasion of Ukraine. The bailout is unlikely to be Europe's last energy-sector rescue.
4. Dollar climbs
Markets were muted, with investors mostly on the sidelines before another expected rate hike from the Fed. Treasuries and the dollar jumped on haven flows after Putin stepped up his war against Ukraine, while the euro fell. S&P 500 futures rose 0.2% as of 5:34 a.m. New York time. Will the Nasdaq 100 Stock Index hit 10,000 or 14,000 first? This week's MLIV Pulse survey focuses on technology. It's brief and we don't collect your name or any contact information. Please click here to share your views.
5. Coming up…
It's pretty hard to see past the Fed today, but given the focus on rates, it's worth keeping an eye on the housing market, with US MBA mortgage applications and existing home-sales data due. And of course, there's a Brazil rate decision and the Bank of Japan's policy meeting — plus a litany of other central-bank decisions to look forward to. Earnings include General Mills, Lennar, Trip.com and Legend Biotech.
What we've been reading
Here's what caught our eye over the past 24 hours.
And finally, here's what Joe's interested in this morning
Hello and Happy Fed Day. The big question is whether they go 75 or 100 basis points, and at this point markets and most people seem to think it will be 75.
Stepping back for a second, the macro backdrop is that a lot of things are coming into place on the inflation front… except inflation.
Here's a really messy chart of a bunch of lines that have gone down. It includes trucking costs, international shipping costs, gasoline prices, the ISM Prices Paid index, used cars, and Zillow's measure of rent. It's pretty clear. A lot of stuff that went up is now coming down.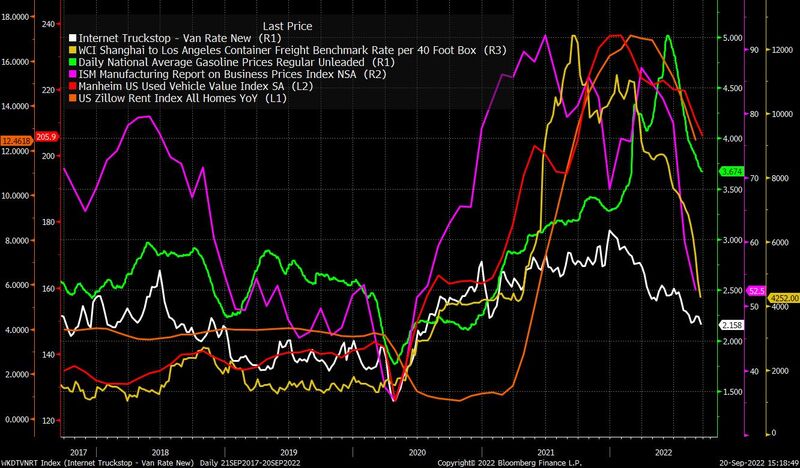 The problem however, is that for all of the above, we haven't seen it feed through to consumer prices. Here's the Cleveland Fed's Trimmed Mean Index.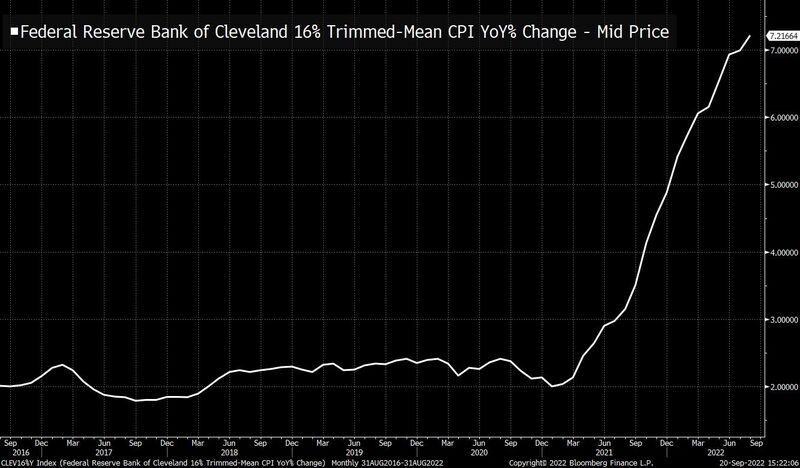 The Fed has hiked a lot. Rates are way up basically by any measure. And again, a bunch of private sector measures of prices and activity have clearly rolled over. So the question at this point, for thinking about the appropriate pace of policy, is if and how much the top chart filters down into the bottom one.
Stocks We Are Watching 
SPY is our main focus today as we have the Fed interest rate decisions. The pink vertical lines are indications of the last two 75 point rate hikes. As show you can see both times we got a climb in the markets after Fed chair Powell delivered his commentary on the Feds outlook for the economy. I am not saying that this will happen again however Powell needs to reassure the American and world economies that they are doing everything they can to tame inflation while trying to keep the jobs market strong without having to raise unemployment rates at an aggressive rate. I expect we will hear him be quite hawkish on the economy although we have declining CPI, housing, retail sales, and jobs numbers. It is all about perception with the Fed. They expect the markets to move with what he says and so we need to be cautious and pair actual numbers to what he is saying to get the bigger picture of the overall health of the economy.