Good Morning Traders
Good morning! We expect to see market volatility all week. We have many news data releases coming out such as Building permutes, housing starts, existing home sales all dealing with the strength of the overall housing and real estate market.
Mortgages and new sales have been dropping significantly and could continue this week with these numbers.
As well we do have the Federal Reserve statement being released on Wednesday which will dramatically move the markets if the Fed decides it needs to be more aggressive with taming inflation by a 100 point rate hike, however I am leaning more on the side that they stay with the 75 point hike and continue to the rate rising a bit further out instead.
Jobless claims and the U.S. manufacturing PMI and services flash numbers come in towards the end of the week. These are key to watch as the Fed has tirelessly claimed how the Jobs market is strong and holding the economy, if we get negative numbers on this release we could expect to see heavy downside pressure. 
We do not believe this week is a good week for swing trades and markets could rock back and forth depending on the strength of any of these economic indicators. We will be watching the markets carefully and will be very cautious with our trading this week! We do expect to get some volatile moves and so we will be targeting key entries on day trades.
As always practice proper risk management and Good Luck! 
Top Upgrades, Downgrades, Initiations, Pre-Market Movers, Unusual Options Activity, and Economic News
Pre-Market Movers
Upgrades
Downgrades
Initiations
Unusual Options Activity
Economic news
Five Things You Need to Know to Start Your Day
1. Mega hikes
A host of central banks around the world are set to continue raising borrowing costs this week, led by the Federal Reserve, which is expected to launch a rapid-fire attack on inflation, doubling down on its commitment to bring consumer prices under control. Monetary authorities in Japan, Sweden, Switzerland, Norway and the UK will also review their benchmarks, while in the emerging markets, Philippines, Indonesia, Taiwan and Turkey will be among those that assess whether their lending rates are in tune with the rest of the world.
2. Taiwan support
President Joe Biden said US military forces would defend Taiwan from "an unprecedented attack" as his administration seeks to deter China from increasing military pressure on the democratically elected government in Taipei. Biden has made similar statements on at least four other occasions as president. China claims Taiwan as its territory, even though the Communist Party has never controlled it, and hasn't ruled out force to prevent its formal independence.
3. Bitcoin sinks
Bitcoin dropped near the lowest level since 2020 as cryptocurrencies fell on worries over a wave of monetary tightening that's set to stretch from Europe to the US this week. Meanwhile, South Korean prosecutors signalled that Do Kwon, the progenitor of a $60 billion cryptocurrency wipe-out, is at risk of an Interpol red notice and trying to evade redress over a meltdown that roiled digital assets.
4. Risk-off
Stocks slid in a cautious start on Monday as investors await a slew of interest rate decisions ahead and after global equities notched their worst week since hitting this year's low in June. S&P 500 futures and Nasdaq 100 contracts dropped 1% as of 5:50 a.m. New York time. In Europe, energy, tech and financial services lagged as all sectors slumped. Investors are betting on deeper inversion in the US yield curve, further losses in stocks and a stronger dollar, the latest MLIV Pulse survey showed.
5. Coming up…
It's a quiet start to a busy central-bank week, with markets in Japan closed and the UK observing a holiday for the funeral of Queen Elizabeth II. Data on Monday includes US NAHB housing market index, and Colombia presents July economic activity. AutoZone (AZO US) will report fourth-quarter earnings. Policy meetings later in the week include the Federal Reserve, Bank of England, Bank of Japan, Swiss National Bank and several others.
What we've been reading
Here's what caught our eye over the weekend.
And finally, here's what Joe's interested in this morning
Just over a year ago in this newsletter, I wrote that we were seeing what should be the last ever "crypto bull market."
My argument was basically that there was enough maturity and differentiation among coins and projects such that they shouldn't all trade in unison.
Well a lot's happened since then. For one thing, the bull market has turned into a bear market. Meanwhile, we're experiencing the worst inflation in over four decades now, and yet Bitcoin, which has often been touted as an inflation hedge, has done terribly. And Ethereum just experienced its long-awaited shift to proof-of-stake, which if nothing else cuts its energy use massively, while demonstrating that a loosely decentralized network can undergo major upgrades. So all these developments are happening. And yet…
Basically they're all still just tech stocks. Not only are the coins trading in line with each other still, they're still basically trading in line with the Nasdaq 100. Here's a chart: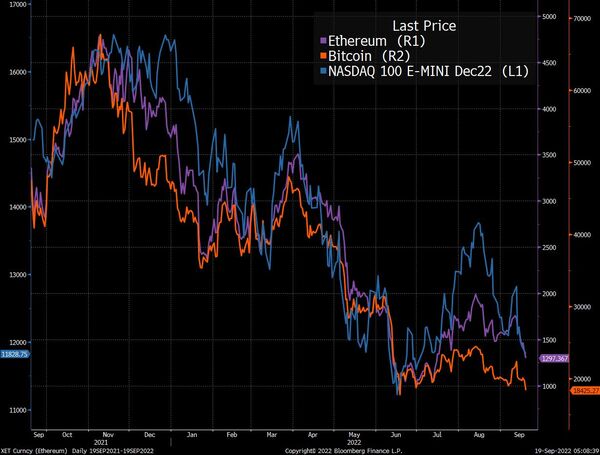 What does this all mean? I think one possibility is that the marginal buyers of cryptocurrencies just doesn't care about any of this stuff. Proof-of-work? Proof-of-stake? The merge? Inflation hedging? The halving? Deflationary monetary policy? What's all that stuff?
In other words, it's possible that there's a small coterie of people paying attention to any of this. And that what's really driving price is just the animal spirits of a much larger group of speculators, who are also moving the price of Zoom or Tesla or Meta or whatever else.
So speaking of fundamentals, on the latest Odd Lots podcast, Tracy Alloway and I talked to Christine Kim of Galaxy Digital about Ethereum's shift from proof-of-work to proof-of-stake. Christine is phenomenally clear about The Merge, its technical details, how it happened, and the potential risks of the new network architecture.
On some level, the big story here is that the network has dramatically limited its power consumption, making for a real departure from Bitcoin, in one of the most controversial aspects of crypto. But perhaps the bigger story is what it symbolizes, that after years of effort, this sprawling network is capable of undergoing such a dramatic "upgrade". In other words, the fact that it can be done at all is perhaps more interesting than what was done.
Whether that will ever matter to price or use of the network is TBD.
Stocks We Are Watching 
SPY Has fallen below the major resistance level at 390. The next major support zone is not for another 20 basis points to the 37o area. With all the economic news releases, we could definitely see this area tested this week with how weak the markets have been.
XOM, We are still holding our XOM positions however with the weakness in the markets we will be searching for trades to hedge against this position as markets run further to the downside.