Good Morning Traders
Good morning! Yesterday we had a bit of a bounce in the equities markets which is understandable after such a large drop. On the live stream I called out that if anyone was interested in taking any short term swings on SPY to the down side, I would wait until SPY got up to the 388/390 range again before entering short. Well this morning SPY is currently down to 385.50 so had anyone taken those shorts they would be paying out nicely into the open today.
Building permit numbers came out worse than expected at 1.52M vs 1.60 expected which is bad news for the economy however housing starts came in better than expected at 1.58M vs. 1.45M expected. The markets didn't take too kindly to this news and is why we are down 0.75% collectively on the pre market indices.
I would suggest to be very cautious today again as investors and market makers are waiting for the Fed interest rate decision before making any large scale repricing moves in the markets. We could see a flat or back and forth market today, better to be cautious and keep your powder dry for tomorrow! 
As always practice proper risk management and Good Luck! 
Top Upgrades, Downgrades, Initiations, Pre-Market Movers, Unusual Options Activity, and Economic News
Pre-Market Movers
Upgrades
Downgrades
Initiations
Unusual Options Activity
Economic news
Five Things You Need to Know to Start Your Day
1. Hikes galore
This week's onslaught of central bank meetings got off to a hot start, with Sweden's Riksbank springing a 100 basis-point hike. The move, which came as a shock to most economists, is just the first in what is shaping up to be a mammoth few days for rate decisions, with the US Federal Reserve likely to choose between a three-quarter-point or full-point hike on Wednesday. The Swiss National Bank, Norges Bank, Bank of England and others follow.
2. European gas
European natural gas prices fell, poised for their longest losing streak since July, as Germany earmarked billions for gas purchases to avoid shortages and the Netherlands unveiled a support package for households. That follows moves by the UK and the European Union to curb a crisis that has brought the region's economy to the brink of recession. Another bright spot for the market is the steadily filling stockpiles, now slightly above the five-year average.
3. More weapons
Ukrainian Foreign Minister Dmytro Kuleba urged western nations to supply more weapons so his government can press ahead with its counteroffensive against Russian forces. Kuleba said in an interview Monday with Bloomberg Television that Ukraine wants to add to its recent territorial gains. The Department of Energy will offer additional US reserve crude for sale ahead of plans by the European Union to ban most Russian oil in December.
4. Stocks drop
Stocks fell, giving up early gains, as traders braced for another supersized US rate hike. S&P 500 futures dropped 0.3% as of 5:32 a.m. New York time, while real estate and mining shares led European equities lower. The US 10-year real yield rose to the highest since 2011, while two-year yields are poised to crack above 4%. This week's MLIV Pulse survey focuses on technology. Will the Nasdaq 100 Stock Index hit 10,000 or 14,000 first? Click here to share your views.
5. Coming up…
It's not all about central banks this week. Today brings the release of leading indicators on the US property market, with housing starts and building permits data to be released. There's also CPI data from Canada and the European Central Bank's Christine Lagarde speaks later.
What we've been reading
Here's what caught our eye over the past 24 hours.
And finally, here's what Joe's interested in this morning
Mortgage rates have shot up. But across the US, home prices have barely fallen yet.
As such, the monthly cost of a new home purchased with a 30-year fixed mortgage has absolutely exploded.
Yesterday I posted a list of what monthly payments look like for today's homebuyers across the country.
Here, for example, is Boise, Idaho. Prior to the pandemic, the average homebuyer was looking at a roughly $1000 monthly payment. Today it's just under $2600. An absolutely staggering affordability shock.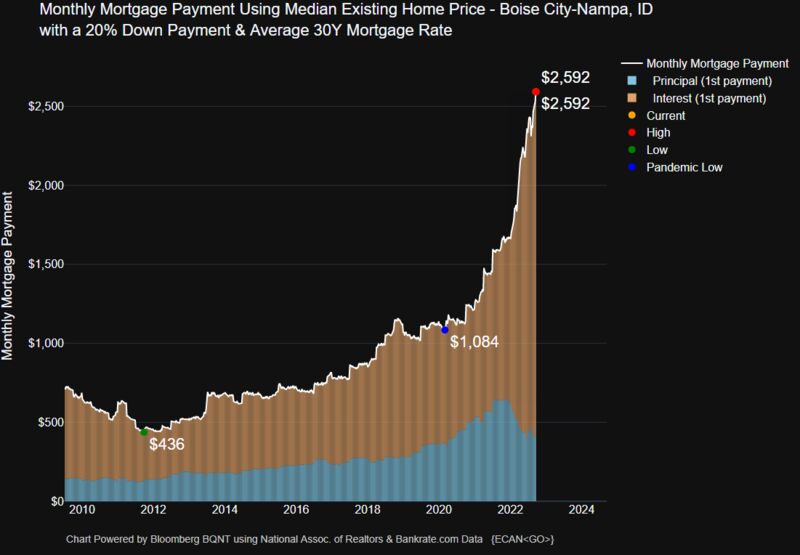 It seems obvious that something has to give here big time, whether it's price or just the number of transactions, or something. Early this year, one of the themes was that would-be homebuyers saw a housing purchase as protection against surging rents. Inflation protection in other words. That's obviously obliterated with moves like this.
Stocks We Are Watching 
SPY We will be focusing 99% of our attention on SPY as we watch to see how the markets react this morning to the housing numbers but also still in anticipation of the Fed hikes coming tomorrow. We could expect to see another flat day trading between the 390-390 range again and if it breaks either of those levels, you could potentially look for SHORT term day trades, but again i would highly suggest to be very cautious.