Good Morning Traders 
I believe we are going to have a strong week of securities buying. Positive sentiment is starting to pour back into the markets and after weeks of negative sentiment and mass selloffs, I think investors are chomping at the bit to get back into a "bullish" scenario, even if it is just for the short term. We also just got PPI YoY and Core PPI MoM at a positive sentiment.
Core PPI YoY For Oct. 6.7% vs 7.2% Est.
Core PPI MoM For Oct. 0.00% vs 0.3% Est.
Markets have SOARED on this news in the pre market trading hours.
We have many positive scenarios from China and the US starting to ease tensions with Biden and XI sharing that they feel it necessary to get our two major economies back in a synchronous situation. With a softer than expected CPI print we have had a major buying of equities and securities as many investors believe we may have already bottomed in the markets.
I do want to stress that we are still in heavy downtrend territory and that this could be an over exasperated run.
We are definitely not out of the woods with inflation by any means necessary. If the markets start to rally too heavily and the Fed still feels the need to reign in the madness as we still have 7.7% inflation, we could see some more serious selling pressure at the next meeting.
Markets have however already started to price in a .50 point rate hike at ne months meeting, weighing on the comments of Lael Brainard who said it is appropriate that the Fed can start to consider the easing of their aggressive tightening stance.
While it was not officially confirmed, the markets have already started to price in this easing of rate hikes, and I believe that it why we are seeing such heavy buying pressure. PPI YoY and MoM is also a big CPI gauge as well as it measures the prices from the Producers side.
Markets have exploded higher as we are getting softer than expected readings on that front.
Again, we are not out of the woods, however for the short run I think we can massively take advantage of the positive sentiment and jump on the opportunities in Semi conductor stocks as well as stocks in the utilities, industrials, and potentially energy sectors.
Today should be a great opportunity and I will be searching for some potential overnight to end of the week swing opportunities. 
As always practice proper risk management and Good Luck!
Top Upgrades, Downgrades, Initiations, Pre-Market Movers, Unusual Options Activity, and Economic News
Pre-Market Movers 
Upgrades 
Downgrades
 Initiations
Unusual Options Activity
Economic news
Five Things You Need to Know to Start Your Day
1. `New Starting Point'
The outcome of the meeting between Joe Biden and Xi Jinping exceeded low expectations, with the two sides agreeing to resume cooperation on issues including climate change and food security. After the talks, which ran about three hours, Biden told reporters "I'm not suggesting this is kumbaya," adding that "I absolutely believe there need not be a new Cold War." Meanwhile, Chinese Foreign Minister Wang Yi called it a "new starting point." The conciliatory tone buoyed most equity markets and curbed demand for the safety of the US dollar.
2. Slower Fed?
Federal Reserve Vice Chair Lael Brainard said the central bank should soon moderate the size of its interest-rate increases, signaling she favors slowing to a half-point hike as early as next month. "It will probably be appropriate soon to move to a slower pace of increases," Brainard said Monday in a fireside-chat event at Bloomberg's Washington bureau, even as she acknowledged that the central bank has "additional work to do." Investors expect Fed officials to opt for a half-point hike at their Dec. 13-14 meeting.
3. Buffett buys
Warren Buffett's Berkshire Hathaway took a stake of about $5 billion in Taiwan Semiconductor Manufacturing, the world's leading chipmaker and exclusive supplier of Apple's custom Silicon chips. The Omaha-based conglomerate acquired about 60 million American depository receipts in TSMC in the three months ended September, according to a filing. The stake would've cost him $5.1 billion, assuming Buffett bought TSMC's ADRs at the average price for the third quarter. It's a sign that the legendary investor thinks the chipmaker has bottomed out after a selloff of more than $250 billion.
4. Buoyant markets
US equity futures climbed, with S&P 500 contracts rising 0.7% as of 5:34 a.m. in New York. Nasdaq 100 futures enjoyed a bigger gain of more than 1%. Bloomberg's gauge of the dollar fell to a three-month low, boosting all Group-of-10 currencies. Treasuries led a rally in global bond markets. Oil fell while gold rose along with Bitcoin.
Who will win the World Cup and which country will have the best-performing stock market during the tournament? Fill out the MLIV Pulse survey here.
5. Coming up…
At 8:30 a.m., we'll get the November reading for the Empire Manufacturing gauge. There's also a slew of appearances among Fed officials, starting with Philadelphia Fed President Patrick Harker and Fed Governor Lisa Cook, who will both speak at 9 a.m. at separate events. An hour later, we'll hear from Michael Barr, the Fed  Vice Chair for Supervision. Earnings include Walmart, Home Depot and Krispy Kreme.
What we've been reading
Here's what caught our eye over the past 24 hours:
And finally, here's what Joe's interested in this morning
Alright, here's a thought experiment.
Imagine going back in time exactly 10 years. And imagine telling someone that over the next decade, the US would have an incredible shale revolution that would make it the top oil producer in the world.
And then also imagine telling someone that during this time, we'd see the start of the electric-vehicle revolution, and the beginning of the end for the internal combustion engine.
What would that person have guessed would happen to the price of gasoline over that time, in light of those two facts? Most people would probably assume it would be tremendously oil-negative.
And yet here's the 10-year chart of gasoline. You can see prices are up substantially since late 2012.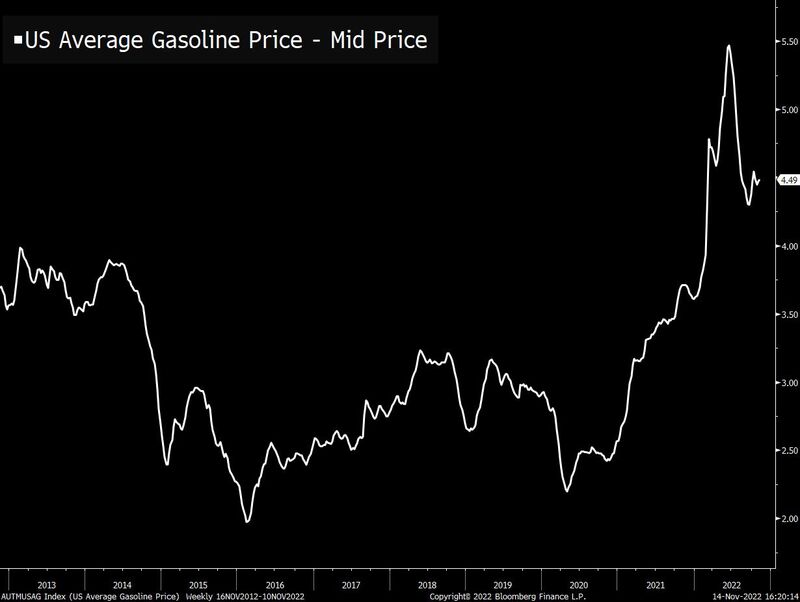 On the latest episode of the Odd Lots podcast, we spoke with oil historian Gregory Brew. And while it was mostly about the oil boom in Guyana, one of the broader themes is the destabilizing effect of so much oil production happening outside of an organization such as OPEC. As he explains it, there's a very long tradition, going back to the Texas Railroad Commission, of oil production being curbed in some way, to mitigate the booms and the busts.
So the current situation is unique, where there is this massive player (the US) that doesn't have any national oil strategy, or even ability to turn up or down the production dial. And so during the last decade, you had this furious race to the bottom (where everyone was losing a ton of money drilling) and now you have this opposite situation, where production increases are conservative, because nobody wants to lose money again.
But then also, ironically, the rise of the electric vehicle means there's a lot of uncertainty and reticence about investing more, and this is making prices higher today than they might otherwise be.
It seems counterintuitive, but the combo of future uncertainty (due to the so-called energy transition) and the rise of a massive, unconstrained, unmanaged industry (the US) can have the combined effect of making oil more, not less, expensive.
https://www.bloomberg.com/news/newsletters/2022-11-15/five-things-you-need-to-know-to-start-your-day
Stocks We Are Watching
INTC on the back of TSMC getting a major boost by Warren Buffett disclosing a 5 billion dollar interest, we should see chipmaker stocks soar
FDX is still one of my favorite current plays. On the back of softer PPI numbers I believe we rally fairly hard today