Good Morning Traders 
I am hesitant this morning to try and guess how the markets are going to play out today. Instead I will be patient and wait to see how the morning live stream goes.
Currently we are forming what I typically call a high basing style pattern on the indices after a massive run higher last week off the softer CPI data. Yesterday we got softer than expected growth in the PPI percentages, yet we still failed to close above 4000 on the SPX yesterday.
This tells me that there is still a lot of pressure from bears in the markets to prevent the SPX and other indices from climbing.
If we can get a close above 4000, I believe we could possibly see 4110 tested very quickly, which would put major pressure on short positions that have heavy interest right now. We traded well above 4000 yesterday for the majority of the day until reports of a Russian made missile struck the outskirts of Poland, which led to panic in the markets and a massive sell off.
After the dust settled, the markets resumed the climbed but were unable to recover all the previous gains. I am interested to see how today plays out.
If I had to take a guess, I would say it is very possible we could have another sideways style/ consolidation type of day, simply but watching how price action has traded over the past couple of days.
US Retail Sales For Oct. Month Over Month 1.3% vs 1.0% Est.
US Core Retail Sales For Oct. Month Over Month 1.3% vs 0.4% Est.
Retail sales and Core retail sales just came out and with an initial drop, pre markets have balanced back again with little change since before the announcement.
Retail sales are higher than expected which tells me demand is still very high from the consumer standpoint. Obviously this presents a problem in the eyes of the Fed as they are actively trying to curb demand so that prices and inflation can begin to head back to their projected levels.
I am interested to see how the next measure of CPI plays out as we head into the holiday season with high demand still running strong, and the busiest buying season commences.
I do not believe we are anywhere close to out of the woods yet. With a small possibility of a lightening of monetary policy from the Fed in sights, we will need to watch the data releases closely to determine how long before the Fed can pivot. Today is expo day and we will be looking to capture some quick day trades and potential swing set ups! Join us Live at 9:30am! 
As always practice proper risk management and Good Luck!
Top Upgrades, Downgrades, Initiations, Pre-Market Movers, Unusual Options Activity, and Economic News
Pre-Market Movers 
Upgrades 
Downgrades
 Initiations
Unusual Options Activity
Economic news
Five Things You Need to Know to Start Your Day
1. Rocket questions
US President Joe Biden and key European leaders are urging caution after a rocket struck a Polish village about 6 kilometers (4 miles) from the border from Ukraine. Doubts are growing over the rocket's origin and whether it was fired by accident, with some leaders suggesting it could have been Ukraine's missile defense sending a Russian projectile off course. Multiple diplomats say it's looking less likely that Poland will invoke Article 4 of the NATO charter, which would kick off a discussion with the alliance ahead of any potential response.
2. Pain ahead
At the Bloomberg New Economy Forum, sovereign wealth funds in Abu Dhabi and Singapore warned that markets have further to drop, while venture capital investors betting on startups said the industry is in for a "reset" after valuations disconnected from fundamentals. "I still think there is more pain generally speaking, but we will have more opportunities than less opportunities in the time ahead of us," Khaldoon Khalifa Al Mubarak, the group chief executive officer of Mubadala Investment Co., one of Abu Dhabi's wealth funds, said on a panel at the conference in Singapore.
3. Crypto heist
The hacker who raided Sam Bankman-Fried's collapsed crypto exchange FTX is now one of the world's biggest holders of the token Ether. The attacker's haul amounts to about $288 million — the 35th largest stash of the coin, according to data from analytics platform Etherscan. The insult of the theft from FTX added to the injury of the company's chaotic tumble into bankruptcy last week, which has prompted the US and Bahamas to discuss bringing Bankman-Fried in for questioning.
4. Calmer markets
US equity futures have flipped to gains following declines during Asia trading. S&P 500 contracts and Nasdaq 100 futures both climbed about 0.1% at 5:39 a.m. in New York. The dollar pulled back from session highs, boosting most Group-of-10 currencies apart from the Japanese yen. Treasuries were little changed, with yields up one to two basis points across the curve. Oil rose along with gold, while Bitcoin slid.
5. Coming up…
At 7 a.m., we'll get the latest US mortgage applications data, followed by retail sales at 8:30 and industrial and manufacturing figures 45 minutes later. Then at 10 a.m., business investories and housing-market data are due. It's also a busy day for Federal Reserve speakers, starting with New York Fed President John Williams at 9:50 a.m. and Fed Vice Chair for Supervision Michael Barr 10 minutes later. Fed Governor Christopher Waller will also speak later in the afternoon.
What we've been reading
Here's what caught our eye over the past 24 hours:
And finally, here's what Joe's interested in this morning
For the first time in a while, things feel somewhat pivot-y. We've gotten some cooler-than-expected inflation prints, and some slightly more dovish talk. And as such we've seen a significant easing in the dollar.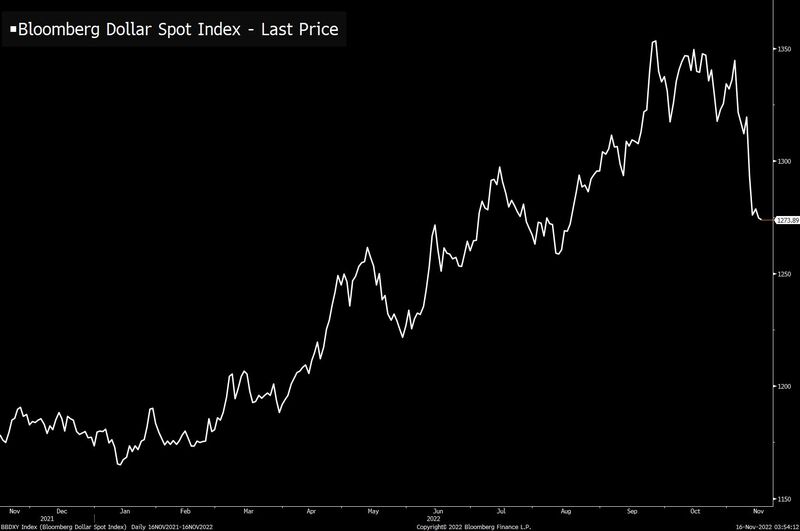 We've also seen a drop in short-term rates, and a rally in stocks and other risk assets as you'd expect. Of course, the one area that hasn't seen a rebound is crypto, for all the reasons you've read about in the news.
I don't know if "ironic" is the right word for it, but it's certainly something that FTX was collapsing at the exact moment that we got that CPI print last week that sent the entire market soaring. The CPI report was on November 10. The next day FTX filed for Chapter 11. What if the inflation print had happened a week earlier and coins had staged a huge rally along with stocks?
The thing is, though, almost by definition something has to break or be broken in order for the Fed to actually pivot. Not everybody can come through to the other side of the turning point intact. By definition, someone is NGMI, otherwise what did the rate hikes accomplish? If everyone can keep doing the same thing as before, then what was accomplished in the inflation fight? What problem was solved?
To some extent, the market-slash-broader economy is like a giant tontine right now. There may be riches on the other side, but it only pays out to after some participants fail to survive.
https://www.bloomberg.com/news/newsletters/2022-11-16/five-things-you-need-to-know-to-start-your-day
Stocks We Are Watching
INTC got a bit of "reset" yesterday with the mass sell off however we are still very bullish on INTC on the back on the Semis getting a boost this week.
FDX remains above the major moving averages and is still poised to breakout to the upside. I will look to get into this trade as well today if the opportunity arises.
RTX Got a major boost yesterday after the missile from Russia landed in Poland. Obviously as military defense sectors will be getting a close eye after this "attack"