Good Morning Traders 
After a tough week of trading last week, we are hoping to capture some nice gains!
We will have to remain very cautious this week as volatility will be very low again ahead of Thanksgiving.
Asian and European markets overnight we slightly mixed as Asian stocks traded lower and European stocks were fairly flat.
This furthers my point that we may see some flat markets today.
US pre markets are down about half a percent.
After a heavy week of consolidation with a failure to break above 4000 on SPX, I believe we could start to head lower this week.
There are no major economic news events that I can see causing heavy swings in the markets either direction. We will have to watch how the markets trade this week as we could see similar price action last week that was very back and forth.
Durable goods orders and Capital Equipment goods as well as Manufacturing PMI due on Wednesday which could drive volatility into the markets before Thanksgiving, but I personally am not going to throw much weight around that event.
The week following Thanksgiving should be much more volatile as we have many Economic news events coming out and Investors will be eager to jump back into the market after the holiday week.
We will be looking to lock in some gains on SPY day trades and potentially looking for longer term swing trade set ups, but we will be cautious of those until we get a defined movement in the markets! Join us Live at 9:30am as we jump into the markets
As always practice proper risk management and Good Luck!
Top Upgrades, Downgrades, Initiations, Pre-Market Movers, Unusual Options Activity, and Economic News
Pre-Market Movers 
Upgrades 
Downgrades
 Initiations
Unusual Options Activity
Economic news
Five Things You Need to Know to Start Your Day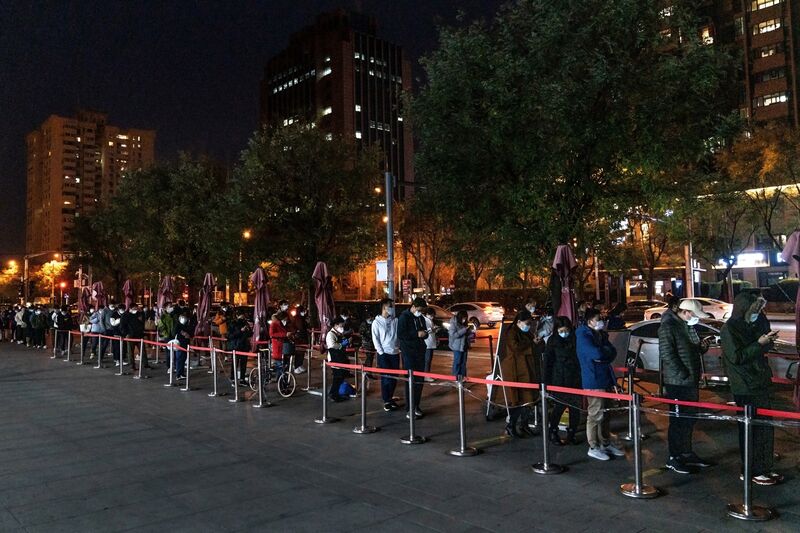 1. Covid Zero
Hope that China is loosening its Covid curbs dissipated after a city near Beijing that was rumored to be a test case for all virus restrictions has suspended schools, locked down universities and asked residents to stay at home for five days. The move came just over a week since China issued a suite of guidelines aimed at making its Covid approach more targeted. As a result, risk aversion returned to markets, with stocks falling and demand rising for the dollar.
2. Disney shock
Walt Disney shares jumped 10% in pre-market trading after it brought back former leader Bob Iger to replace his successor Bob Chapek as chief executive officer. Iger, 71, was previously CEO for 15 years and has agreed to serve for two years while helping find a permanent replacement. He will be charged with reversing the steep decline in Disney shares, which have fallen about 41% this year. Meanwhile, Chapek — who steps down immediately — is likely to leave with exit payments and benefits that could be worth more than $23 million.
3. World Cup
Brazil is the favorite to win the World Cup, according to more than a third of the participants of the latest MLIV Pulse survey. Argentina is the second-most favored, garnering more than 20% of the responses. Brazil's national team seeks redemption after a humiliating 7-1 drubbing at home to Germany in the semi-finals of the 2014 tournament. That looks like a distinct possibility after the team dominated its region during qualifying games — winning 14 of 17 matches and conceding just five goals.
4. Stocks fall
US equity futures fell, with S&P 500 contracts down 0.6% as of 5:42 a.m. in New York. Nasdaq 100 contracts slid 0.8%. The dollar powered higher, pressuring all Group-of-10 currencies. Treasuries were little changed, with 10-year yields hovering around 3.83%. Oil and gold fell, while Bitcoin slid more than 1%.
5. Coming up…
We'll get the October reading for the Chicago Fed National Activity Index at 8:30 a.m., followed by a sale of $42 billion of two-year notes at 11:30 a.m. then an auction of $43 billion of five-year notes at 1 p.m. Federal Reserve of San Francisco President Mary Daly speaks at 1 p.m.
What we've been reading
Here's what caught our eye over the weekend:
And finally, here's what Joe's interested in this morning
Sometimes discussions about hiring within a given industry can seem semantic. Is there a "labor shortage"? Or is there a shortage of employers willing to pay proper wages and give employees decent conditions? And what are the implications of the different framings?
On today's episode of the Odd Lots podcast we're back on the trucking beat talking to longtime driver Gord Magill.
For years, long before the pandemic, there's been talk about a driver shortage. But as Gord points out, there are numerous practices within the industry that devalue drivers and increase churn. Among them is the problem of driver detention: drivers can spend hours waiting at warehouses for their goods to be loaded/unloaded. And because their pay is by the mile, not by the hour, and because regulations specifically exempt employers from having to pay drivers overtime, this is unpaid work.
Stepping back, if you take the view that there's a "driver shortage" then the answer would be to say, make it easier to get a Commercial Driver's License to get on the road. But if you turn it around, and identify the problem as one of driver retention due to poor treatment, then solutions would go toward fixing issues like detention so that existing drivers don't bounce from the industry as fast as they do.
With a high level of labor market slack, as the US has had for years (pre-pandemic), business models that assume a high degree of employee churn seem sustainable (Amazon warehouses perhaps might be another relevant example here). But in more robust labor markets, these practices get exposed and the models start to buckle. For the last two years we've been talking about a supply-chain crisis, and yet drivers have spent numerous idle hours during all this time sitting at warehouses not getting paid — a terrible use of human time and capital.
(As Gord points out, it was particularly bad during the peak of Covid precautions, as numerous sites prevented drivers from coming in to use the bathroom, lunch rooms, or other facilities during the wait.)
https://www.bloomberg.com/news/newsletters/2022-11-21/five-things-you-need-to-know-to-start-your-day
Stocks We Are Watching
INTC is still holding well above the area it broke out from. We hope to see INTC climb this week but will have to watch how this plays out this week.
FDX Still looks great on a Daily chart and with such a long term expiration, We believe we can get more upside potential.
TSM Is still out of profit but is acting as a nice hedge against our long positions, It is opening lower than previous close and if it can continue to drop we will look to close out for either a minimal loss, or a potential small gain