Good Morning Traders 
While we got a bit more price action than usual yesterday, it has still been a difficult market to navigate.
Yesterday we saw positive sentiment come back into the markets on a slow grind higher.
Dow was up 1.18%, S&P up 1.36%, and Nasdaq up 1.36% for the biggest days in over a week. We hope to see volatility today as we have the FOMC minutes report coming out at 2:00pm. This is going to have the markets in anticipation as they are set to release their latest indications of rate hikes in the coming meetings.
This will impact the markets greatly in my opinion. Markets have already been pricing in a less hawkish Fed and as some officials have already come out and said they see the FOMC nearing the point of backing off the aggressive rate hikes.
If the Fed comes out and says that they do not plan to slow the rate of hikes (although i think this is unlikely) expect to see massive selling in the markets.
Even if they come out and say that they will slow the rates slightly in the next meeting, but do not see inflationary readings at the levels which they see improvement and that the ongoing pace is going to be extended, I think we will see some heavy selling.
While we understand that their actions are not really doing much to help the economy, investors all over the world will be paying very close attention to this reading, so volatility before the holidays should have its last hoorah.
Initial Jobless Claims 240K vs 225K Est.
U.S. Continuing Jobless Claims 1,551K vs 1,517K Est.
USA Core Durable Goods Orders (MoM) for Oct 0.500% vs 0.100% Est; Prior (0.900)%
We see with these readings that just came out at 8:30 that the Jobs markets continues to take a hit as Jobless claims both new and continuing are on the rise.
This shows a slowing of the labor force participation, however, with US Core durable goods printing much better than expected, this throws a wrench into the reading.
Core durable goods is a LEADING indication of the strength of the economy from a manufacturing standpoint. A higher than expected reading shows positive sentiment that manufacturers are getting orders in from the industrial standpoint, which helps show the strength of the underlying economy.
While one months data can sometimes be skewed, we have to take a look at the previous months as well too in order to get an accurate understanding of the trend. In the past year we have slowed the rate at which durable goods have been produced, with the last reading coming in heavily below expectations.
While this months reading is very positive and shows a bit of an acceleration in the economy, I do not believe it is enough of an indication to say that we are on the path back to recovery.
We will see how the FOMC minutes come out today and what they say about the economic data that has been released since their last meeting earlier this month. Until then we will be searching for some shorter term trades in anticipation of this event! 
As always practice proper risk management and Good Luck!
Top Upgrades, Downgrades, Initiations, Pre-Market Movers, Unusual Options Activity, and Economic News
Pre-Market Movers 
Upgrades 
Downgrades
 Initiations
Unusual Options Activity
Economic news
Five Things You Need to Know to Start Your Day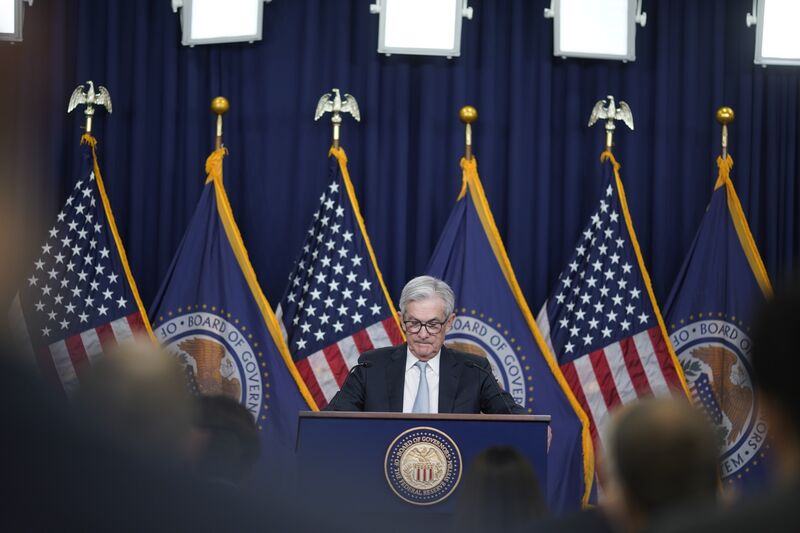 1. Fed peak
All eyes are on minutes of the Federal Reserve's November meeting, which are expected to show the extent of consensus over the higher peak for interest rates. Earlier this month, Chair Jerome Powell told reporters that rates would probably have to go higher than the central bank's quarterly projections in September, which showed a peak of  4.5% to 4.75% . Investors see rates topping out at around 5% next year, according to pricing in money markets.
2. Crypto roundup
Top partners at Sequoia Capital apologized to investors for backing FTX, whose bankruptcy had its first US court hearing. Former CEO Sam Bankman-Fried in a letter outlined a crash in collateral to $9 billion from $60 billion. Meanwhile, ARK Investment Management CEO Cathie Wood is sticking to her Bitcoin target of $1 million by 2030, saying that the cryptocurrency is "coming out of this smelling like a rose."
3. Credit Suisse
Credit Suisse clients pulled as much as 84 billion Swiss francs ($88.3 billion) from the bank during the first few weeks of the quarter. The lender also warned that it will face a loss of as much as 1.5 billion Swiss francs for the final three months of the year, partly as a result of the decline in wealth and asset management client funds from the start of October to Nov. 11 — potentially the worst exodus since the financial crisis. "Credit Suisse needs to restore trust as fast as possible – but that is easier said than done," said Andreas Venditti, banking analyst at Bank Vontobel AG in Zurich.
4. Quiet markets
S&P 500 and Nasdaq 100 futures were little changed as of 5:41 a.m. in New York. The Bloomberg Dollar Spot Index was flat, spurring mixed trading among Group-of-10 currencies as the Norwegian krone led gains while the Canadian dollar lagged. Treasuries were also little changed in European trading, having been closed in Asia due to a holiday in Japan. Oil climbed while gold fell, and Bitcoin advanced for a second-straight day.
What are your Black Swan and White Swan scenarios for next year? Share your views in the latest MLIV Pulse survey here.
5. Coming up…
At 7 a.m., we'll get mortgage applications data, followed by durable goods and jobless claims figures at 8:30 a.m. Readings on manufacturing and services gauges are due at 9:45 a.m., followed by the University of Michigan sentiment gauge 15 minutes later. The Fed minutes will be published at 2 p.m.
What we've been reading
Here's what caught our eye over the past 24 hours:
And finally, here's what Joe's interested in this morning
Anytime you hear the phrase "zombie company" you should consider running the other way.
Technically speaking, the term refers to companies that are unviable or structurally unprofitable, that can only survive thanks to borrowing more money cheaply. But there's almost always a heavy dose of politics associated with the term, with the insinuation that there are all these legacy institutions out there that are bloated and corrupt, dependent on easy money, while hoarding resources that would be better employed by newer, and more dynamic, but less politically connected firms.
On the latest episode of the Odd Lots podcast, we speak with the famous short seller Jim Chanos about tech, crypto, and much more. While everyone's focused on crypto fraud these days, he sees a much more pervasive fraud out there in terms non-standard accounting measures, which help mask massive amounts of share-based compensation among firms, particularly tech companies.
Of course, when all the lines are going up, very few people really care much about all the stock that gets issued to employees. Everyone's getting rich, so whatever. But on the way down, the gears turn in reverse. The shares are recognized as dilutive at a time when investors in the company are looking for profits.
So going back to zombie companies. Again, the connotation is usually that they're the old, corrupt, incumbent players dependent on borrowing cheap money.
But with financial conditions having tightened so much, it's the newer, tech companies that have gotten hit the hardest. Sure, most tech companies aren't debt financed, so we don't think of them as being at the trough of cheap borrowing. But when you persistently need to tap equity markets to survive (which is what paying employees so heavily in stock means) then a fall in share prices might as well be a rise interest rates.
So here you have numerous companies that are unprofitable, by any accounting measure. And their very survival is predicated on a forgiving and generous stock market. And on top of that, they've accumulated incredibly important capital, in the form of engineers and designers who could be working elsewhere in the economy. (They've also arguably been hoarding scarce computing power). So once again, it sounds like so many tech companies were the real zombies that are now getting washed out.
https://www.bloomberg.com/news/newsletters/2022-11-23/five-things-you-need-to-know-to-start-your-day
Stocks We Are Watching
INTC held the key support from the previous breakout with a solid green candle. This stock looks ready to breakout heavily to the upside.
FDX is still holding within consolidation but I do believe we have room to run higher.
VZ held up nicely yesterday with a solid green candle. From a technical standpoint, this stock looks the best for a break to new short term highs